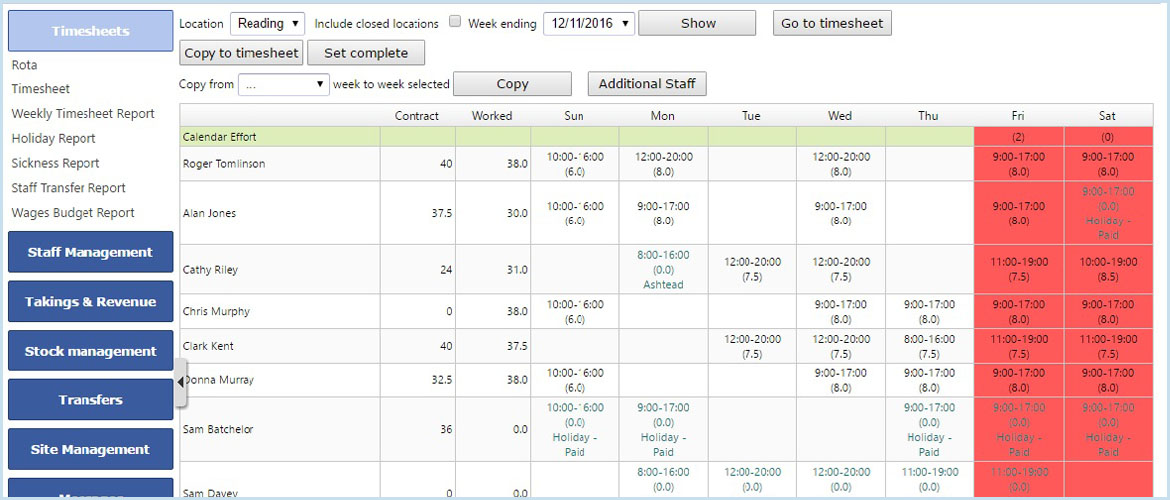 Recruiting, scheduling and managing staff across a branch network to meet customer needs within budget is complex and RAPID helps you achieve this with:
Alerts for probation reviews, contracts and visa expiry
Electronic forms for starters, changes, leavers, absences and appraisals. All forms include validation and relevant users are prompted to complete overdue forms.
Rotas to plan schedules with comparison to the weekly site or store budget and to each persons' contracted hours.
Timesheets to record actual hours worked and absences with reasons.
Reports on staff working at other branches, holidays & other absences
Exports to and imports from a payroll system
Appraisal & training request processing
Enthuse staff by having a single place to go to for all information and actions
With RAPID Staff Management it can only take store managers 10% of the time for rota preparation compared to manual spreadsheet methods, reports against budget are available immediately after the week closure and all HR forms are validated on entry so are accurate.
Click for a full list of RAPID Modules, RAPID for Retail, RAPID for Catering and how our customers are using RAPID
Or to find out more about RAPID, please email us or telephone 01372 272800 and we will be delighted to demonstrate how it can work for your company.