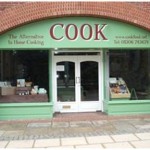 Cook prepares its own frozen meals and sells them through a network of over 50 retail stores and franchises.  According to the Daily Telegraph, the "meals look and taste like they have been home-cooked with love and flair".  Cook is implementing Retail Answers' RAPID store management system to significantly improve business processes and communication between the stores, the franchisees, central operations and its kitchens.
The benefits include the availability of all documentation for health & safety, a secure messaging system, compliance monitoring in stores, the collection of data from stores using on-line forms and enhanced visibility of store operations across the entire company.  Crucially, Cook can see throughout the organisation who hasn't responded and this management by exception is an effective way to control a growing estate.
 Mark Dennis, Operations Director said, "we chose RAPID due to its ability to drive actions in stores, the power of the forms designer to create our own forms, the strengths of document searching and the simplicity of its user interface.  It will significantly improve business processes by making key information available at the right time throughout the organisation".
RAPID has been designed to be implemented quickly and smoothly. Configuration options provide the right amount of flexibility while not being overly complex and the web-based architecture means that it is simple to deploy across both head office and store networks with the minimum of overhead.  RAPID operates seamlessly on tills, iPads and PCs in stores as well as in head office, area offices, warehouses and other central functions and can be deployed to suppliers if required.